Pension Dukát Kořenov - Czech Republic - Jizera mountains
Offer lodgings: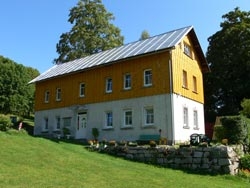 Accommodation pensino Dukat Korenov Giant Mountains:
Object of the pension is located in the protected area in the Jizerske Mountains in the village Korenov, which is located in the vicinity of the Giant Mountains and the border with Poland. Thanks to its position is a great place for winter and summer vacation. In the neighborhood there are known winter resorts of "Jizerske" Mountains and Giant Mountains, such as Rejdice, Harrachov, Paseky or Rokytnice nad Jizerou.

Pension Dukat Korenov Accommodation:
Capacity of the pension, including extra beds is 14 beds. You can accommodate in 1 double and 1 triple room, in 1 four-bed rooms and 1 five-bed suite. In the rooms there is a kitchen, with the possibility of cooking. Each room has accessories with shower, TV with sat. income.

Korenov accommodation Giant Mountains / Jizerske mountains Dukat services:
Common room with billiards (pool), electronic darts, table games. In the summer outdoor table tennis, own swimming pool, fireplace, option of grilling. The possibility of breakfast. Private parking lot at the pension. The pension is ideal for short and long-term stays, private, family and group recreation.

Holidays Jizerky Korenov accommodation pension D tourism:
Winter sports - For cross-country skiing there are available kilometers of well-maintained tracks. Ski slopes, ski tow "Bavorak" 400 m from the pension, artificial snowing (Harrachov 6 km). The surroundings of the pension is plenty of marked hiking and cycle routes that will show you the most beautiful places of the Jizerske Mountains. Touristic attractive is the entire surrounding area, whether in terms of natural scenery, as well as valuable tourist sites. From Liberec pension is located about 35 km, from the city of glass and jewelery Jablonec nad Nisou about 20 km. The whole area is easily accessible both from Germany and from Poland.